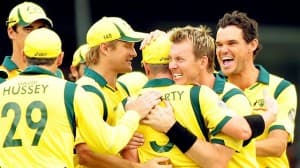 Test cricket's number one ranking is up for grabs as current top dog South Africa plays a three-match series away from home versus Australia, which occupies third position.
The South Africans heads the Reliance ICC Test Ranking with a 120 rating derived from their 25 games during the counting period, while the Australians have a 116 rating derived from their 34 matches over the same period. England is second on 117 and there is a gap to Pakistan, which is fourth on 109.
Australia and South Africa have played 85 Tests dating back to October 1902, with the ledger favouring the Australians quite significantly. They have won 48 times, with the South Africans on 19 victories and 18 draws. In Australia, the home side leads by 20 wins to seven, with eight draws.
But it has been a different story in recent times, with both the Australians and South Africa having won four of their last eighth clashes and each team winning an away series.
As has been the custom since the South Africans returned to international cricket post Apartheid, Australia and South Africa will contest a three-Test series Down Under. The Gabba will stage the First Test from 9 to 13 November, with Adelaide Oval (22 to 26 November) and the WACA Ground (30 November to 4 December) hosting the other two games.
In the post-Apartheid era, the South Africans have not played a Test match against the Australians in Brisbane. Also, they have not won in Adelaide and they have not lost in Perth. So the program seems fair to both sides.
Australia Versus South Africa Betting Tips
It is not often that bookmakers install Australia as the underdog for a home Test series but that is case for its three-game battle versus South Africa and rightly so.
The Australians have fought their way back up the rankings with eight wins in their last 10 Test matches but they have had a relatively soft schedule featuring home series against India and New Zealand and a tour of the West Indies, which is nowhere near as scary as it was 20 or 30 years ago.
The South Africans have registered five wins, three draws and two losses in their last 10 Tests but they have had a tougher time of it, playing Sri Lanka at home and touring England and New Zealand. South Africa smashed the English 2-0 and that form – a comprehensive away victory over the former top team – is the best one in existence currently.
Even those punters with only a limited knowledge of cricket will hazard a guess that the series between Australia and the South Africans will boil down to which batting line-up handles pace best, particularly at the Gabba and the WACA Ground. In deciphering the best bets, one needs to consult the pace bowling and batting-against-pace statistics.
Over the last 18 months, there is little to choose between the pace attacks. The Australians have played 14 Tests, with their fast bowlers taking 186 wickets at an average of 24.7 and a strike rate of 52.1. The figures of South Africa's speedsters are similar, with them taking 168 wickets at an average of 24.6 and a strike rate of 48.6 in 11 Tests.
Individually, though, Vernon Philander sticks out like the proverbial sore thumb. In 10 Tests, he has taken 63 wickets at an average of 16 and a strike rate of 33.1, with seven five-wicket innings and two 10-wicket games. He is trading at odds of around 3-1 to be the top South African bowler in the series and that represents excellent value. Dale Steyn is the favourite even though his recent figures are not as impressive as those of his incredibly talented compatriot.
So back Philander to be the most prolific wicket taker in South Africa's side and, also, support the South Africans in the series at odds of around 11-8. Why? The tourists are likely to bat better against pace than the hosts.
Since January 2008, South Africa's top five batsmen – Alviro Petersen, Graeme Smith, Hashim Amla, Jacques Kallis and AB de Villiers – average 57.6 versus fast bowlers, whereas Australia's top five batsmen – at least those who have played a Test match before – average in the low 40s.
Australia Versus South Africa Betting Offers
Most bookmakers are betting on the three-Test series between the Australians and the South Africans but special offers are conspicuous by their absence currently, although some of them are likely to roll out some First Test exotics concessions on the opening game at the Gabba.
Therefore, the most sensible course of action is to secure some of the free bets and deposit bonuses that are available to new clients of most bookmakers. Also, one should check out the world's only specialist cricket bookmaker. Set up in 1999, Cricketbet operates out of both Australia and the United Kingdom these days. Cricketbet has a 20 per cent first deposit bonus applicable to new clients, up to a whopping maximum first deposit bonus of 1,000 British pounds or currency equivalent. Check out the top rated sportsbooks for betting on cricket below.
Best Sportsbooks for Cricket Betting
Australia Versus South Africa Betting Strategies
Oppose Mr Cricket
Michael Hussey's batting average versus fast bowlers over the last five years is only 33.3, which is nearly nine runs lower than his batting average against all bowlers. Mr Cricket is the weakest link of the Australians so, hopefully, bookmakers will put up him in head-to-heads against machines such as Smith, Amla and de Villiers.
Respect captain Pup
Michael Clarke shapes as the most likely Australia batsman to test South Africa's pace men. Over the last five years he has scored 2769 Test runs at an average of 52.2 versus fast bowlers, which is a bit better than his overall average.
Lay the draw
The Australians and the South Africans have drawn only one of their 20 Test meetings since the turn of the century.