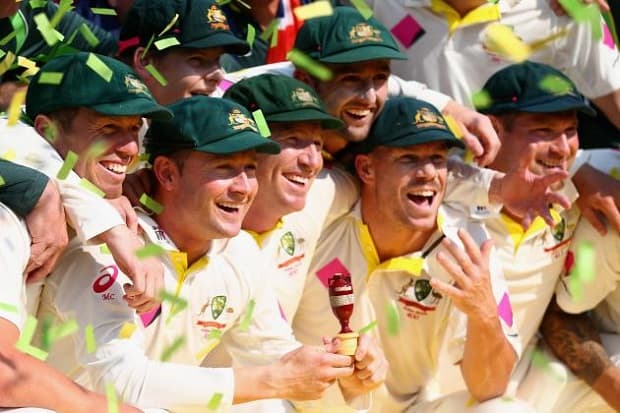 The 2015 Ashes will be played over five tests this summer, with the first test starting on the 8th of July, and the fifth test on the 20th August. England were whitewashed 5-0 last year in Australia, which was only the third time in Ashes history that had happened. This is a chance for England to put things right, but Australia are flying high after winning the World Cup. England had a poor campaign down under, and they'll be more than happy to be back on home soil after some torrid World Cup performances.
A Bit of History
The term 'The Ashes' dates back as far as 1882. After Australia's first test victory on English soil, British newspaper, The Sporting Times, wrote that English cricket had died, and that the body would be cremated and the ashes taken back to Australia. The name stuck, and when the 1882-83 Ashes came around, England Captain Ivo Bligh, declared that they would 'regain those Ashes'.
There have been 68 series in total, of which Australia have won 32, England have won 31, and 5 have been drawn. England actually have the better recent record, having won three of the last four ashes series, but they have been whitewashed 5-0 either side of those three victories. Australia were dominant between 1989 and 2003, retaining the Ashes eight times, and they will be hoping to start another run of similar proportions.
England – 5/2 with Bet365, Coral, William Hill
England really have it all to do in this series, and they will be hoping for good results from their tour of the West Indies to restore confidence. They were woefully short in the World Cup and suffered humiliating defeats against Australia, New Zealand, Sri Lanka and Bangladesh. They failed to even qualify for the quarter-finals and the inquests began as soon as they returned to home ground. Captain Alastair Cook is under intense pressure but former England Captain Andrew Flintoff has given him his backing saying that he will prove his doubters wrong.
Former England bowler Phil Tufnell was far less confident, and he doesn't expect England to turn the table on the Aussies this summer. He said of England's chances, "We're going to get bombed, it's as simple as that."
It's hard to put the finger on exactly what's going wrong with English cricket at the moment. There appears to be plenty of talent in the squad, but it seems to be bereft of confidence. England are expected to beat an under-strength West Indies side, but that will have little bearing on proceedings over the summer.
Draw – 6/1 with Totesport and Betfred
Australia – 4/6 with Betvictor
We backed Australia to win the Cricket World Cup and they didn't let us down, beating New Zealand by seven wickets in the final. They've already named their squad for Ashes tour, and if England's squad seems to have talent in it, Australia's is positively brimming with it.
Middlesex Captain Adam Voges and Pakistan-born spin bowler Fawad Ahmed have been included in a 17-strong Australian squad, and both could add something to the team if selected. Voges domestic form saw him voted Sheffield Shield Player of the Year, after making 1,358 runs with an average of 104.46. Fawad Ahmed only arrived in Australia from Pakistan five years ago as an asylum seeker, and his citizenship application was fast-tracked three years later. The leg-spinner was selected as the second spinner ahead of Ashton Agar, and could be the man to step up and fill the gap left by Shane Warne a long eight years ago. It may be a little early to talk about him in those terms – he's yet to play a test match, after all – but his inclusion was inevitable after his domestic performances for Vitoria in the Sheffield Shield. He took 48 wickets and was by far the leading wicket-taker in the competition.
Chairman of Australia's selectors, Rod Marsh, was bullish about the Aussies chances, and mentioned the bowling talents of newcomer Josh Hazelwood. The pace bowler had a fantastic World Cup, and although he has only played three tests, Marsh thinks he could be thorn in England's side this summer. He said of Hazelwood, "Personally, I think he will be a terrific bowler in England. I really think he's one guy I'm looking forward to seeing bowl in England. I think he could be very, very good – McGrath-like".
The Verdict
Michael Clarke will again captain the side after leading his team to World Cup glory, and the players will surely believe the Ashes are there for the taking. One glimmer of hope for England is that they do have a decent record against Australia at home in the Ashes. The barmy army have seen England win the last three Ashes series on home soil, in 2005, 2009, and 2013. England won 2-1 in 2005 with two of the tests drawn, but it was the following series in 2006-07 when Australia completed the first of their recent whitewashes. England again won the series 2-1 in 2009, and followed that up with a 3-1 win in Australia, and a 3-0 win back at home in 2013.
However, if we look back a little further, Australia had a very good record in England during their period of Ashes dominance from 1989-2003, and they won four series on the trot in England's back yard. They won the Ashes back from England in 1889 when they won 4-0 away from home, and followed that up with a 4-1 win in 1993, a 3-2 win in 1997, and a 4-1 win in 2001 as they racked up eight successive Ashes series.
With English cricket in the doldrums, they do look to be there for the taking for a formidable Australian side. The Aussies will be flying high on confidence after their World Cup victory, and they look to have very few weaknesses throughout the squad. There could be plenty more inquests to come for the English, and Australia look a very good bet to take the Ashes away with them.
Tips Summary
To win the Ashes Series 2015, first Test starts 8th July.
Australia – 4/6 with Betvictor
2015 ashes
ashes
Australia
cricket
England