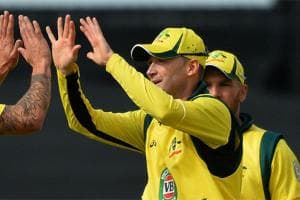 Most bookmakers are beginning to wake up to themselves and rate Australia ahead of England in the One Day International series but Youwin's odds of 1.73 about the Australians winning the fourth game in Cardiff are worth taking.
Play in the Third One Day International between England and Australia featured only 91 legal deliveries before rain put pay to the match and prevented the Australians from ramming home their superiority. England was 59-3 after 15.1 overs after Michael Carberry, Kevin Pietersen and Joe Root had failed with the bat, leaving the game at Australia's mercy.
England coach Andy Flower, whose attention has switched to the upcoming Ashes rematch in Australia, has confirmed that Carberry will retain his place as opener for the rest of the One Day International series in spite of his poor form. The Hampshire batsman has scored only 15 runs in three innings, one of which was versus Ireland. There is little doubt that England is experimenting with a view to developing younger players for the Cricket World Cup in 2015 and that Flower does not mind all that much about the outcome of the One Day International series because it is secondary to the Ashes.
Whereas Australia is fielding what it thinks is its premier One Day International side, England is resting many of its stars, including its best bowlers – James Anderson, Stuart Broad and Graeme Swann. England does not have the depth at either Test or One Day International level to cope without Anderson, Broad and Swann, which means that Australia has a terrific opportunity to go through the series undefeated.
Cardiff has been happy hunting ground for England. The Welsh capital city has hosted six One Day International games and all three that have produced results have favoured England, including a four-wicket defeat of Australia in 2010. Chasing 240 to win, England reached its target with just under five overs to spare thanks to a number of solid contributions. Anderson, Broad and Swann all participated in that match, with Broad being adjudged the game's star player for his 4-44 with the ball that included Australia's first three wickets – Tim Paine, Ricky Ponting and Michael Clarke.
Crucially, that Cardiff clash did not occur during a One Day International series contested immediately after an Ashes series. There is a distinct trend that post-Ashes games in the One Day International format favour the team that lost the Test matches. England won the Ashes in 2005 but lost the One Day International series 3-2. Australia regained the Ashes in 2007 but lost the One Day International series, going down 0-2 to England in the final of the three-side tournament. England won back the Ashes in 2009 but lost the One Day International series 1-6. And England retained the Ashes in 2011 but lost the One Day International series, again by a 1-6 scoreline. Ashes success equals One Day International sorrow, or so it has been since 2005.
With England expected to again go into battle with only four frontline bowlers – Steven Finn, Boyd Rankin, Ben Stokes and James Tredwell – Australia's batsmen could have a field day against a home team that does not have the bowling attack to restrict a high-class batting line-up to a modest total. The likes of Aaron Finch, Shaun Marsh and Watson have the power to blow away England in the first 15 to 20 overs, with the star that is Clarke coming in at number four and capable of continuing the torment with more traditional stroke play.
Backing Australia at odds of 1.73 to take an unassailable 2-0 lead in its One Day International series against England is just one play that appeals. Another attractive bet is Australia at odds of 1.91 with Bwin to score more runs in its first 15 overs and England does in its equivalent period. Australia outscored England by 15 runs in their respective first 15 overs at Old Trafford. And finally, supporting Australia at odds of 1.91 with Bwin to score more fours than England makes sense. Australia hit 32 fours at Old Trafford, with England managing only 17.