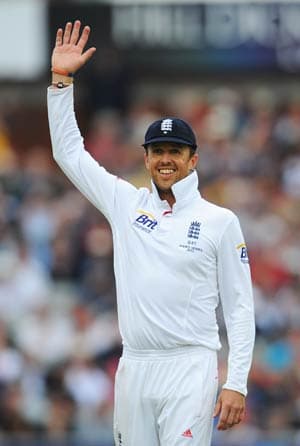 Australia has broken England's spirit and, therefore, there is only one way to bet on the outcome of the Fourth Test at the Melbourne Cricket Ground and that is backing the home team to win its 61st game at the grand old amphitheatre.
England is in disarray. Key batsman Jonathan Trott pulled the pin on his tour – and perhaps his international career – after England's 381-run loss in the First Test and, four days out from the Fourth Test, Graeme Swann announced his immediate retirement from cricket. Swann has copped flak from all quarters because many people think that he has abandoned his England teammates in their hour of need. But surely the most plausible explanation for Swann's actions is that England officials told him that he would not play in the Fourth Test and gave him the option of quitting before being sacked. Swann was likely to walk away from cricket at the end of the tour anyway and, by giving him the chance to walk before being pushed, England's management did not trash his reputation. Swann has been one of England's star players for many years and he deserved to go out on his terms or, at least, give everyone the impression that it was his call.
Journalists will fill thousands of column inches writing about Swann's retirement and its impact on the Fourth Test but Melbourne Cricket Ground statistics suggest that those stories will not have foundations in fact. Nathan Hauritz was the last slow bowler to have a major impact on a Test match at the Melbourne Cricket Ground and that was four years ago when he took five wickets for 101 runs to help Australia dismiss Pakistan for 251 runs in the away side's second innings. You can count the number of spinners who have taken five or more wickets in an innings of a recent Test game at the Melbourne Cricket Ground on the fingers of one hand and most of them have been expensive in doing so. India star Anil Kumble falls into that category perfectly.
What Swann's retirement does mean is that England's bowling attack has lost its lock-down element. Monty Panesar does not dry up the runs as well as Swann does and one can bet that Australia's confident batsman will go after the cult hero from the first ball that he sends down the pitch. If Australia gets on top of Panesar early – and the odds are that it will do exactly that – then England's battered and bruised pace bowlers are going to have to take wickets quickly to stop the home team posting a big score.
Youwin is offering odds of 1.83 that Australia defeats its old rival and goes up 4-0 in the Ashes series. None of the last 15 Test matches at the Melbourne Cricket Ground has been a draw, with Australia winning 12 of those games. England beat Australia by an innings and 157 runs at the Melbourne Cricket Ground three years ago when its pace bowlers skittled the home side for 98 runs in its first innings and Trott scored a majestic 168 runs not out in reply. Pace bowling won the Test match for England in 2010 and none of Australia's spinners took a wicket, either. If one was to rate the pace bowling attacks of Australia and England at this point in time, the Australians would get eight out of 10 and the English would get half that mark.
Of the Fourth Test exotics the pick is odds of 1.62 with Unibet about one or more Australia batsman scoring an individual century in the home side's first innings. There is not much in the way of Melbourne Cricket Ground data to support such a bet but playing in an Ashes game that gets under way on Boxing Day is the pinnacle for an Australian cricketer, the morale of the home team could not be any higher and England's head is not in the contest. The Fourth Test could get very ugly indeed for England.
Australia's Bureau of Meteorology is forecasting decent weather for the first couple of days of the Fourth Test, with its long-range forecast predicting a few showers for days three and four. Melbourne has a reputation for poor weather by Australian standards and even that has not prevented each of the last 15 Test matches producing a positive result. Back Australia to beat England again.