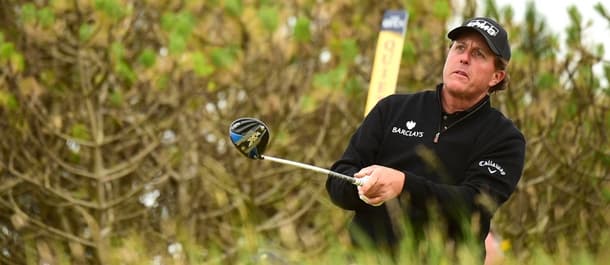 Left handers are rarer in professional golf than the general public but they boast an outstanding record in the Masters Tournament and handedness may be the key to punting profits.
Southpaws have taken out six of the last 14 editions of the Masters Tournament, which is a remarkable statistic when one considers that there are very few left-handed golfers at the top level. Why, even the star golfer nicknamed Lefty, Phil Mickelson, is right handed in everything he does except his chosen profession – he learned how to swing golf clubs as a young child by mirroring his right-handed father's style.
Augusta National, the picture-perfect home of the Masters Tournament, was not designed with left handers in mind but, particularly as a consequence of recent modifications, it does suit southpaws. Mike Weir won the Masters Tournament in 2003, Mickelson triumphed in 2004, 2006 and 2010 and Bubba Watson prevailed in 2012 and 2014. You would struggle to name many more PGA Tour regulars who play left handed so those are truly remarkable statistics that form the basis for one's betting assault on the Masters Tournament.
Seventy-two-hole match betting is the most appealing of golf punting options so one is going to select some matches in which proven Masters Tournament commodities Mickelson and Watson line up against golfers who have not shot out the lights in their previous visits to Augusta National.
Jon Rahm is a Masters Tournament debutant but Bwin has put up him versus Mickelson and Lefty is available at odds of 2.10Bet €100 to win €21011/10Bet £100 to win £210+110Bet $100 to win $2101.10Bet HK$100 to win HK$2101.10Bet Rp100 to win Rp210-0.9091Bet RM100 to win RM210 with a draw not resulting in a dead heat. Augusta National is a notoriously difficult venue for newcomers so, while Rahm is ranked 12th in the world – sixth positions in front of Mickelson – one has to be with Lefty at underdog odds. Rahm is in excellent form – four consecutive top-10 finishes – but the Masters Tournament is one event in which course form is critical. You have to know how to get around Augusta National and Rahm's lack of experience may prove his undoing versus the three-time Green Jacket recipient.
Henrik Stenson is the world's fifth-ranked golfer but he has a dismal Masters Tournament record for someone of his class. Stenson missed the cut on his Masters Tournament bow in 2006 and, since then, he has finished tied for 17th, tied for 17th again, tied for 38th, tied for 40th, tied for 18th, tied for 14th, tied for 19th and tied for 24th, as well as missing the weekend in 2010 and 2011. Stenson has made the top 10 in 11 editions of major championships but his best Masters Tournament effort is a tie for 14th in 2014.
Paddy Power is offering odds of 1.91Bet €100 to win €19191/100Bet £100 to win £191-110Bet $100 to win $1910.91Bet HK$100 to win HK$191-1.10Bet Rp100 to win Rp1910.9100Bet RM100 to win RM191 that Watson, who comes alive whenever the Masters Tournament rolls around, beats Stenson at Augusta National. Like, Rahm against Mickelson, Watson is an obvious false favourite versus Watson.
Finally, Justin Thomas does not have the Masters Tournament numbers to be favoured over Watson, with both Coral and Ladbrokes listing the two-time Green Jacket wearer at odds of 2.00Bet €100 to win €2001/1Bet £100 to win £200+100Bet $100 to win $2001.00Bet HK$100 to win HK$2001.00Bet Rp100 to win Rp2001.0000Bet RM100 to win RM200 , albeit with a draw being resulted as a losing bet.
Thomas finished last year's Masters Tournament, which was his first Augusta National appearance, tied for 39th after completing four rounds averaging 74.50 shots. Thomas is a young gun who has risen to seventh in the world rankings and he is a major title winner waiting to happen but he should not be odds on to defeat Watson in the Masters Tournament.
Tips Summary
Mickleson to beat Rahm – Masters match betting
Thursday 6th – Sunday 9th April
Odds: 2.10Bet €100 to win €21011/10Bet £100 to win £210+110Bet $100 to win $2101.10Bet HK$100 to win HK$2101.10Bet Rp100 to win Rp210-0.9091Bet RM100 to win RM210
Watson to beat Stenson – Masters match betting
Thursday 6th – Sunday 9th April
Odds: 1.91Bet €100 to win €19191/100Bet £100 to win £191-110Bet $100 to win $1910.91Bet HK$100 to win HK$191-1.10Bet Rp100 to win Rp1910.9100Bet RM100 to win RM191
Watson to beat Thomas – Masters match betting
Thursday 6th – Sunday 9th April
Odds: 2.00Bet €100 to win €2001/1Bet £100 to win £200+100Bet $100 to win $2001.00Bet HK$100 to win HK$2001.00Bet Rp100 to win Rp2001.0000Bet RM100 to win RM200
Augusta
bubba watson
Golf
Masters
Phil Mickleson