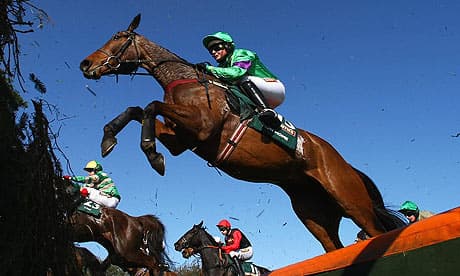 The Grand National, a handicap steeplechase over four miles, three furlongs and 110 yards at Aintree in Liverpool, is the most valuable jumps race in Europe and the United Kingdom's favourite race, well ahead of the five English classics.
What most horse racing historians consider to be the first Grand National took place in 1839. Ironically given the supposed randomness of the event, Lottery triumphed under Jem Mason. Abd-El-Kader was the first multiple Grand National winner, taking out the 1850 and 1851 races.
Seven horses have won the Grand National on more than one occasion, including the most famous steeplechaser of all time. Red Rum was an unremarkable horse on the flat but, even though he was bred to be effective in races without obstacles over about a mile, he ended up winning the Grand National three times, including back to back in 1973 and 1974, and finishing runner-up in 1975 and 1976. Red Rum's trainer, Ginger McCain, had prepared his star to defend the Grand National crown that he had regained in 1977 but the horse suffered a hairline fracture on the day before the 1978 edition and he was retired from competitive action.
The Grand National is a gruelling test, not only because of its extreme distance but also since it features 30 fences. Horses have to jump The Chair, the Aintree course's largest obstacle, once and Becher's Brook, the track's most famous fence named Captain Martin Becher who took shelter in the brook to avoid injury after falling off Conrad in the 1839 Grand National, twice. Grand National jockeys have compared Becher's Brook to jumping off the edge of the world.
Grand National Lends Itself To Trends
The Grand National attracts once-a-year punters in their millions and it would be fair to say that many of them do not know how to read a form book. However, there are a lot of trends that novice gamblers can use to narrow down the Grand National field from its maximum of 40 horses.
According to Grand National history, weight is a crucial factor. Last year, Neptune Collonges became the first horse to win the race carrying more than 11 stones and five pounds since Red Rum lumped 11 stones and eight pounds to his third and final victory in 1977. Neptune Collonges had 11 stones and six pounds on his back, including jockey Daryl Jacob.
Every Grand National winner since 1970 had won over at least three miles previously. The Grand National is the United Kingdom's longest annual horse race so any prospective winner has to have stamina by the bucket load.
The Grand National rewards experience. There has not been a winner under the age of eight years since seven-year-old Bogskar won the 1940 race and there have been only 11 eight-year-old champions since World War Two. All of the last 22 Grand National winners had competed in at least 10 steeplechases prior to their headline-grabbing victory.
And it pays to concentrate on the most fancied 20 per cent of the field. Sixteen of the last 22 Grand National winners started in the first eight in the betting, making a mockery of claims that the race is the most difficult to work out in advance. It is a myth that infrequent punters perpetuate.
Teaforthree Is The Standout Contender
The above Grand National trends suggest that punters can put a line through, among others, probable favourite On His Own (he has not had 10 steeplechase starts), Seabass (he is set to carry 11 stones and six pounds) and Cappa Blue (he has not had 10 steeplechase starts). With three of the likely market leaders not meeting the aforementioned criteria, Grand National punters can zero in on other contenders.
Teaforthree is the main one for the 2013 Grand National short list. The Rebecca Curtis-trained nine-year-old does not have any Aintree course experience but the son of Oscar and Ethel's Bay is a superb jumper with winning form over four miles. Teaforthree goes well on all types of soft ground, which is what Aintree officials serve up usually, and was a half-length second in this year's Welsh National.
Bookmakers are quoting Teaforthree at odds of around 16-1 and, at that kind of price, he makes considerable appeal, particularly for each-way backers. Shop around for the finest each-way offers. Many bookmakers will pay five places, while some brave ones will pay down to sixth.
Aintree Specialist Could Defy Age Statistics
If one is willing to overlook one of the key Grand National trends – the one about the age of the winner – then there is an interesting outsider in the shape of seven-year-old Saint Are. Tim Vaughan's youngster is an Aintree specialist that seems to grow an extra leg on Merseyside. The left-handed flat track seems to suit Saint Are down to the ground and bookmakers, perhaps knowledgeable about the age statistics, are offering him at odds of around 50-1 to win the race.
Victory in the 2013 Grand National may prove beyond Saint Are but he is trading at a working man's price and offers excellent each-way value, especially if one bets with a bookmaker that pays out on the first six past the post.
Bookies For The Grand National