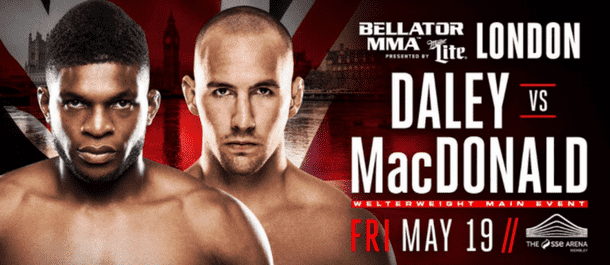 Bellator 179: Daley vs. MacDonald
The 'Red King', Rory MacDonald makes his long-awaited Bellator debut on the Bellator 179 card in London, England against Paul 'Semtex' Daley. MacDonald, who is 27-years-old, was encouraged by the UFC to 'test the free-agent market' after losing to Stephen Thompson in June 2016. Speaking on the MMA Hour with Ariel Helwani, MacDonald claimed 'it's all about making money and whoever wants to pay me the most is where I will go'. MacDonald kept his promise and joined Bellator, helping build potentially the best welterweight division in mixed martial arts of any organisation.
Paul Daley, recognising his opportunity, called out Rory MacDonald after knocking out Brennan Ward at Bellator 170 in January. Rory responded:
when #pauldaley says he will ko rory macdonald inside a @BellatorMMA cage https://t.co/gc5jEaiWx0

— Rory MacDonald (@rory_macdonald) January 22, 2017
The fight was made and fans now get to witness two top-tier welterweight's battle for the confirmed fight against the winner of the Douglas Lima vs. Lorenz Larkin fight which takes place at Bellator NYC, Bellator's pay-per-view card in New York on June 24.
Let's take a look at each of the fighters:
Paul Daley
Record: 39-14-2
Height: 5'9″ (176cm)
Reach: 74.5″ (189cm)
Gym: Team Rough House
Paul Daley's name will probably take a backseat to all of the attention that Rory MacDonald's return to the cage will bring at Bellator 179, but I'm sure Daley is happy to let his performance on the night speak volumes. 'Semtex' returns to the cage after knocking out Brennan Ward with an extremely vicious flying knee at Bellator 179. Before then, it was Douglas Lima who broke Daley's six-win streak via unanimous decision and Daley, more than anything, now wants to avenge this loss against Lima. While Daley respects MacDonald as a top-five welterweight in the world right now, he believes that Douglas Lima is 'bigger, more athletic, and scarier.'
Rory MacDonald
Record: 18-4
Height: 6'0″ (183cm)
Reach: 76.5″ (194cm)
Gym: Tristar Gym
It's the return of the 'Red King'. The fighter most recognised for his gruelling defeat at the hands of Robbie Lawler at UFC 189 in a fight that will go down as one of the greatest of all time. Past that, MacDonald is widely recognised as one of the best welterweights out there right now and his record speaks true with victories against current UFC welterweight champion Tyron Woodley, Demian Maia, Nate Diaz and BJ Penn.
His strategy for this fight?
"I'm gonna step back from that and focus on my strengths and apply them in my fights. And not give a sh*t what everybody else's strength is. I'm just gonna go in there and wreck people with what I know." MacDonald on the MMA Hour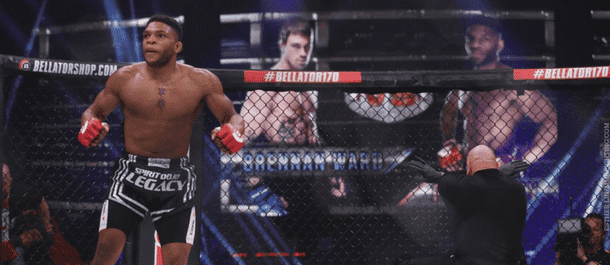 The Breakdown
Paul Daley is going to want to test the nose of Rory MacDonald early and often. MacDonald's nose literally shattered during the Robbie Lawler fight and it was then busted by Stephen Thompson almost a year later. MacDonald claims that his nose has been tested in sparring and has held up well. He has now taken the necessary measures for recovery, unlike before the bout with Thompson.
Daley likes to throw primarily left and right hooks, without using straight punches to initiate or finish the combination. Rory MacDonald was mainly busted up by the straight 1-2 combination from Robbie Lawler in their rematch and has struggled with longer strikes, including those of Stephen Thompson. In effect, if Daley can adapt his game to rely more upon straight and long punches, he'll stand a better chance against MacDonald at Bellator 179.
MacDonald's main advantage is that he loves to strike from a distance, using his jab and long kicks to the body to keep his opponent away. This will work especially well against Paul Daley who, as we have described, likes to move in without setting up his combinations. MacDonald should be able to pick Daley apart as he tries the distance, much like Douglas Lima was able to at Bellator 158.
When it hits the mat, Daley also likes to scramble to his feet with urgency and has a tendency to give up his back to a smart opponent. Expect MacDonald to be aware of this and be ready to take advantage of Daley's sloppy get-ups.
Prediction
Rory MacDonald frustrates Paul Daley with long punches and scores a victory. I can see Daley being knocked down once or twice and surviving before a stoppage in the late third or fourth round.
Best Bets
Paul Daley vs. Rory MacDonald
Rory MacDonald to win
Friday 19th May, 23:00 GMT
Odds: 1.40Bet €100 to win €1402/5Bet £100 to win £140-250Bet $100 to win $1400.40Bet HK$100 to win HK$140-2.50Bet Rp100 to win Rp1400.4000Bet RM100 to win RM140 – PaddyPower
Bellator
Bellator 179
MMA
Paul Daley
Rory MacDonald