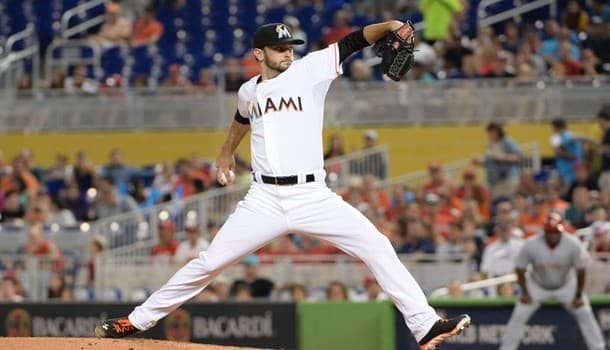 We started our new MLB picks section off on a good note yesterday, as I ended up going 2-0 on my straight bets and 1-0 on my parlay for over 4 units of profit. Let's see what we can do today!
There are only six games on the schedule today and two of them are in the afternoon.
Miami Marlins vs. New York Mets
We have a great NL East match-up here, as the Mets (6-3) host the Marlins (3-6). The Mets are on a 4-game winning streak and are off to a hot start, but I'll be rolling with the Marlins on the road.
There are some concerns, including the fact that Miami just played in Atlanta (6-2 Win) last night. It will be tough to travel to New York and play tonight, but I can't pass up the pitching edge.
Jarred Cosart (0-1) lost his first start (1-0), but he pitched great. He went 6 innings and he only allowed 3 hits and 1 earned run. He only struck out one batter and walked three though.
Dillon Gee (0-1) had a rough 2014 and he got off to a terrible start in his opener. Gee gave up 5 earned runs and 8 hits in 5 innings against the Braves – a team that hasn't been hitting the baseball well.
Miami got 6 runs last night and that was with the middle of the batting order still struggling. Once the big bats like Giancarlo Stanton and Martin Prado wake up – the Marlins will be in great shape.
Adeiny Hechavarria and Michael Morse both hit a HR last night for Miami and are doing well to start the year. Dee Gordon has been great hitting leadoff too. The public will be on NYM, but take Miami.
David Wright is out for the Mets and while the injury hasn't hurt them yet – I expect the loss of his power will start to hurt. Duda and Cuddyer are hitting the baseball well, but that won't be enough.
Milwaukee Brewers vs. St. Louis Cardinals Picks
Best Bet: Over 7.5 Runs (-110) at GTBets
This total stood out to me as soon as I seen it and I'm betting it tonight. The Brewers (2-6) started the season off poorly at home, but they've gone 1-1 on the road in the series against the Cardinals.
St. Louis won last night (4-2) after losing the series opener on Monday (5-4). I was tempted to take the Cardinals ML, but at –150 odds I'm not interested, as I simply don't trust John Lackey.
Lackey (0-0) ended up with a no decision in his 2015 debut with the Cardinals, but he gave up 4 ER's on 4 hits in 6 innings, while only striking out one. Lackey has struggled since moving to STL last year.
Mike Fiers (0-1) lost to the Pirates in his season debut. He only went 5 innings – he gave up 7 hits and 5 ER's. He did strikeout eight batters, but he targets the strike zone too much and gets crushed.
Both teams hit well last night – each team had 10 hits apiece. However, that didn't translate to runs, as neither team hit for power, plus both teams left multiple RISP throughout the game.
Both teams have a strong batting order. The Brewers have Gomez, Lucroy, Braun, Lind and Ramirez, while the Cardinals have the likes of Carpenter, Holliday, Heyward and Molina.
As always, I'll be parlaying up the two picks.
My April 16th 2015 free MLB parlay is Marlins + O7.5 runs in MIL/STL. It pays +291 at BetOnline and worth betting, along with betting both picks straight up. When both hit – it pays off well.