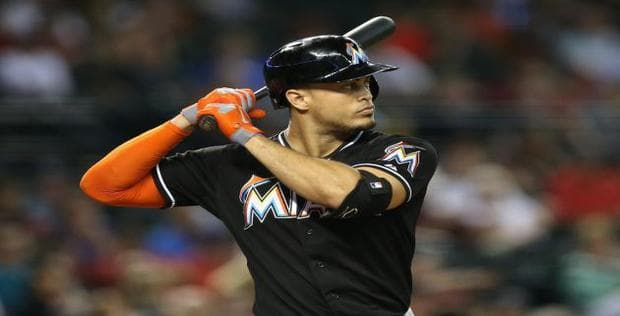 Basketball and hockey are over, so we're going to start providing more MLB picks for our readers. I want to take a look at a market most of you probably aren't even aware of.
BetOnline posts month-long prop bets each month during the MLB season.
We're going to take a look at these prop bets and determine which ones are the best bets to make for the month of July. Several of them stand out to me this month.
Highest Home Run Total by any Batter
Bet on Over 9.5 Home Runs (-125)
There has been at least one player to hit 10+ home runs in April, May and June already, so I love the fact we're getting this line at -125 odds. Batters are starting to heat up too.
We've had multiple batters hit 10+ HR's this month and there's still a few days left.
Giancarlo Stanton has 12 HR's in June and is a great bet to stay hot. Albert Pujols has even banged out 12 HR's this month. One batter will hit double-digits in HR's in July.
Highest Save Total for any Pitcher
Bet on Under 10.5 Saves (+105)
It's tough to have 11 saves in a month. I checked the stats for the top ten leaders in saves and only three pitchers have had 11 or more saves in a single month.
Mark Melancon, Drew Storen and Glen Perkins have all accomplished this feat once this year already, but it's fairly rare and I feel confident betting on the under at plus money.
It takes a lot of close wins to get 10+ saves in a month. The MLB All-Star Game is in July as well, which I believe will help. Results are generally all over the place before/after the ASG.
How Many No Hitters Will be Thrown
Bet on Under 0.5 No Hitters (-140)
There have been two no hitters in June – Chris Heston pitched a no hitter against the Mets and Max Scherzer pitched one against the Pirates just a few days ago.
However, those were the first two no hitters of the season. Oddly enough – there were two last year in June as well, but then there wasn't another one until September.
Normally I'd expect this line to be juiced up more, so I'm betting on the under.
Highest Strikeout Total for any Pitcher
Bet on Over 48.5 Strikeouts (-140)
We've already seen several pitchers have over 49 strikeouts in a single month this season.
Chris Sale has had 63 SO's in June, Scherzer had 56 SO's in May and Corey Kluber had 60 SO's in May as well. Clayton Kershaw has 48 SO's in June, but hasn't had 50+ SO's yet.
However, Kershaw is always a threat to put up 50+ SO's in a month.
There have been a number of other pitchers that have come close to 50+ SO's in a month already, including Chris Archer, James Shields, Cole Hamels and Francisco Bumgarner.
These are five great prop bets to start your month of July off. You can bet on them all at BetOnline and get up to a $1000 sign-up bonus for joining the online sportsbook.
MLB action is starting to heat up and once the ASG passes, teams are going to be in playoff mode and jockeying for position in the American League and National League standings.
The Astros (42), Royals (41) and Rays (41) are all over 40+ wins in the AL and are leading in their respective divisions. The Cardinals (47-24) have the best record in MLB.
Here's a breakdown of the current division leaders in MLB.
AL East: Tampa Bay Rays (41-33)
AL Central: Kansas City Royals (41-28)
AL West: Houston Astros (42-32)
NL East: Washington Nationals (40-33)
NL Central: St. Louis Cardinals (47-24)
NL West: Los Angeles Dodgers (41-33)