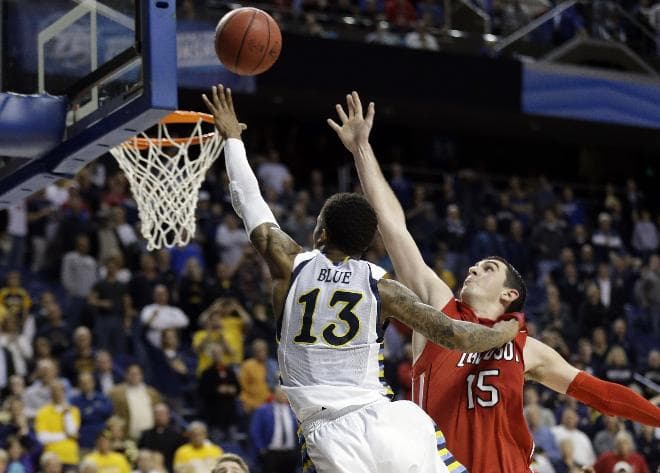 Three in a row: After two excellent displays against Davidson Wildcats and Butler Bulldogs, Vander Blue (pictured) is determined to lead Marquette to the Elite Eight.
The Sweet 16 kicks off this Thursday and Friday as we head towards the Final Four. In a tournament full upsets and unpredictability, we'll make sense of the oddsmakers' lines and give bettors a strong chance to cash all weekend long.
Odds are provided by Bovada.lv, one of the world's top online sportsbooks. Deposit now to grab a 50% Bonus up to $250 in Free Plays.

No. 3 Marquette at No. 2 Miami Florida 7:15 ET
Marquette: The Golden Eagles have had to rally in each of their first two games in the tournament. The team is led by junior guard Vander Blue, who has come up big for Marquette in both of those games hitting the game winning shot in the win against Davidson and dropping 29 points on against the Butler Bulldogs.
Miami: The Hurricanes are playing some of their best tournament basketball in school history. Their roster is dominated by upperclassman with six seniors playing prominent roles on the team. Miami dominated against Pacific in their first tournament game winning 78-49. The team then fought hard to barely get the win against a tough Illinois team 63-59.
Our Pick: Miami has looked dominant at times in this tournament while Marquette has done just enough to get by in the previous rounds. Scoring certainly comes easier for the Hurricanes while the Golden Eagles are powered by Vander Blue. If he has a poor night shooting the basketball, it will be tough for Marquette to get a victory without exceptional contributions from other players.
This is one of the tougher games to handicap throughout the tournament, but we think this game stays close down to the final buzzer beater. Miami could end up blowing out Marquette with their superior offense, but Marquette should be able to slow down the pace of the game and play a more half court style.
We like the Marquette Golden Eagles +5.5
No. 6 Arizona at No. 2 Ohio State 7:45 ET
Arizona: The Wildcats have impressed in their first two games in the tournament. They blew out Belmont to open the Round of 64 and then dominated Harvard 74-51 to make their way to the Sweet 16. Arizona is quick around the perimeter and one of the faster teams in the tournament. Senior point guard Mark Lyons has been the catalyst for this play. The Xavier transfer is averaging 25 points per game so far in the tournament.
Ohio State: The Buckeyes are one of the most physical teams in the tournament and may be the best defensive team left in the field. After a dominant opening win against Iona, 95-70, Ohio State found themselves in a slugfest with No. 12 Iowa State. Point Guard Aaron Craft was clutch in the final minutes of the game drawing a key charge and sinking a three pointer to seal it for the Buckeyes. The Buckeyes leader scorer has been forward Deshaun Thomas who is averaging 23 points in the first two games.
Our Pick: Ohio State has not faced a team with the speed and quickness that Arizona brings in this tournament. Iowa State plays a remarkably similar style to Arizona but with less talent. As we saw last round, the Buckeyes were pushed to the brink against Iowa State and will now face a team in Arizona that plays the same style of basketball with better talent.
The key will be Arizona playing at least average defense against the Buckeyes tough frontcourt. If they can keep them in check, they will have an excellent chance to win.
We like the Arizona Wildcats +3.5. Bonus Play: Arizona Moneyline +155 getting odds at Topbet.eu
No. 4 Syracuse at No. 1 Indiana 9:45 ET
Syracuse: The Orangemen have looked like an elite team so far in this tournament. After crushing Montana 81-34 in their opening game, they won a tough game against California, 66-60. Syracuse won the game despite missing 15 free throws and not scoring for over 12 minutes in the 2nd half of the game.
Indiana: The Hoosiers followed a similar path. After handling James Madison in their opening game 83-62, Indiana had to rally late beat the Temple Owls 58-52. Indiana's Victor Oladipo has been a standout for the Hoosiers. The junior forward has been the go to guy on offense and is an excellent defender. He can shoot the three and is excellent on the drive. He hit a late three pointer against Temple to put Indiana up 4 with 14 seconds left in their win against Temple.
Our Pick: These two basketball heavyweights face off in what will surely be a hard fought game. However, Syracuse's performance against Cal was a bit worrisome as the Orange struggled to score for long stretches, something that will surely end in their demise against Indiana.
Though Indiana struggled against Iowa State, it was clear that the Cyclones had some serious talent and an exceptional coach in former NBA player Fred Hoiberg. The Hoosiers are about as complete as any team in the tournament and should be able to run away with this game if they execute properly.
We like Indiana -5.5
No. 13 La Salle at No. 9 Wichita State 10:15 ET
La Salle: The Explorers opened up the tournament with an 80-71 victory over Boise State in the play-in game. Their Round of 64 game was an upset win over Kansas State, 63-61. Finally, La Salle escaped with another 2 point win, beating the Ole Miss 76-74. Unlike most teams left in the tournament, La Salle had to win three games to reach the Sweet 16. La Salle will get some extra help up front as center Steve Zach returns on Thursday after missing the last six games due to back problems.
Wichita State: The Shockers have perhaps been the tournament's most impressive team. After knocking off Pittsburgh 73-55 in dominant fashion, Wichita took on No. 1 Gonzaga and handed them a 76-70 loss to stun the nation. Freshman guard Ron Baker has been excellent for the Shockers, his 16 point and four 3 pointers was key in helping Wichita beat Gonzaga.
Our Pick: Both of these tournament Cinderellas have busted the brackets of many across the nation. While we love the passion La Salle shows every time they are out on the floor, we think they may be overmatched by a Wichita State team that is showing themselves to be one of the better teams in the nation.
Big, fast and full of talented shooters the Shockers could make it to the Final Four with the way they have been playing lately. Their size has caused problems for all of their opponents, and if they can continue shooting at their current torrid pace, this game may be a route. Even if their percentages come back down to earth – which is likely, Wichita matches up great against La Salle.
We're going with the Wichita State Shockers -4.