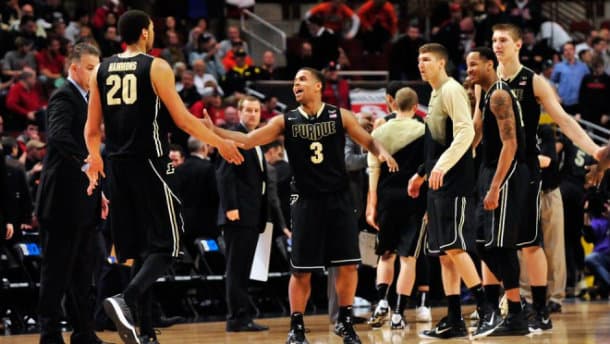 Date: Thursday, March 19th 2015 at 7:10pm ET
The #8 Cincinnati Bearcats 22-10 (13-5 American) take on the #9 Purdue Boilermakers 21-12 (12-6 Big Ten) in a second round March Madness match-up out of the Midwest region.
Cincinnati were upset in the quarterfinals of the American conference tournament by UConn (57-54) on a late buzzer-beater, which snapped a five-game winning streak for the Bearcats.
Purdue made it to the Big Ten semifinals – before running into the red hot Badgers and losing by 20 points (71-51). I can live with that loss, whereas the Bearcats loss is extremely questionable.
Boilermakers vs. Bearcats Odds
Bet on March Madness at GTBets and get a $500 sign-up bonus, plus unlimited reload bonuses.
Purdue are the lower seed, but they're favored to win by –2 points (-110). Purdue are priced at –135 on the money line, while Cincinnati are +115. The over/under opened up at 119 points for this game.
As soon as I seen this game on the bracket I knew I'd be betting on Purdue. I hate the fact close to 80% of the action has been on the Boilermakers, but at times you just have to side with the public.
Cincinnati vs. Purdue Match-Up Analysis
The Bearcats rank 41st in RPI (.5784) and 56th in strength of schedule (SOS). They played a tough non-conference schedule and the Bearcats have actually gone 6-3 against opponents in the top 50.
Cincinnati have done well against good competition in 2015. One concern with the Bearcats is that they have been knocked out of the NCAA Basketball tournament in their first game the last two years.
In 2013, Cincinnati were a #10 seed and they lost to Creighton, while in 2014, they were a #5 seed and were upset by Harvard in the second round. Will they be eliminated in the 2nd round again?
Purdue haven't played in the big dance since 2012 – they were eliminated in the 3rd round.
Here's a trend I found interesting when looking at their Wiki page. Purdue have won at least one game the last 14 times they've played in the NCAAB tournament.
The last time the Boilermakers lost in their first game was in 1993. Purdue have been playing great basketball the last few months and they haven't been playing against easy competition.
Since January 24th 2015, Purdue are 3-1 against top 25 opponents with wins over Iowa, Indiana and Ohio State. Purdue ended the season ranked 53rd in RPI (.5659) and 68th in SOS.
Cincinnati play poor offense (62.4 PPG – 294th) and that's going to kill them in March Madness. If they go down 10+ points early against Purdue – I don't see how the Bearcats will be able to catch up.
Purdue averages 70.0 PPG (99th), 14.9 APG (37th) and they shoot 45.3% from the field (84th).
One thing the Bearcats do well is play defense, as they only allow 55.3 PPG (6th), but the point spread is small in this match-up, so it's not like Purdue have to cover a bunch of points.
Boilermakers vs. Bearcats Predictions
#9 Purdue Boilermakers –2 (Best Odds: BetOnline)
A big match-up in this game will be between the two big men on these teams. Purdue's 7-foot center, A.J. Hammonds leads the Boilermakers in points (11.8 PPG), rebounds (6.5 RPG) and blocks (2.9 BPG).
Octavius Ellis is listed at 6'10'' he's the leader on the Bearcats. Ellis leads Cincinnati in scoring (10.0 PPG), rebounding (7.3 RPG) and blocks (2.1 BPG). The battle between these two will decide the game.
Purdue also have more depth, as all of their starters average 8.6 PPG or higher, whereas Cincy only have a total of three players scoring 8.6 PPG or higher, so Purdue just have too many edges.
Sure, Cincinnati play great defense, but it hasn't worked for them in recent years in the big dance and I don't expect that'll change. I'm all over the Boilermakers in the second round.