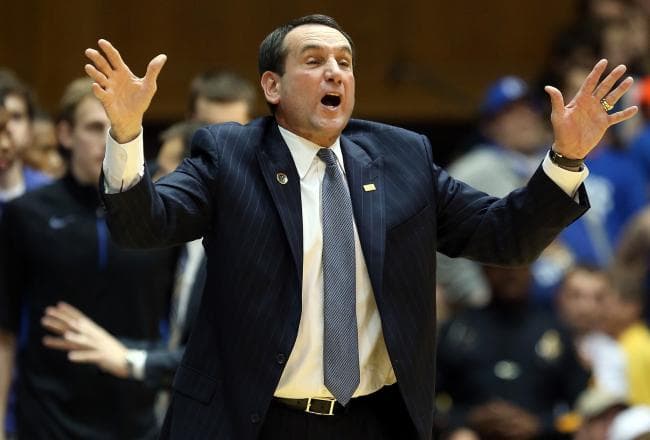 All okay with Coach K: We expect Duke coach Mike Krzyzewski to inspire his team to an easy win over Albany, therefore covering the spread with much to spare.
The first full day of games was eventful as we head into the second day of Round Two action. There were no upsets of #1, #2 or seeds, but No.1 Gonzaga barely escaped losing to No. 16 Southern – winning 64-58. No. 3 New Mexico was upset by the Ivy League's No. 14 Harvard Crimson, which was the largest upset by seeding. No. 12 Oregon beat No. 5 Oklahoma State handily, winning 68-55 in the Midwest Region.
We are using our March Madness sign-up bonus money in our picks at Bovada, Topbet and GTbets. See details here or mentions below on the March Madness 2013 promotions.
No. 15 Albany at No. 2 Duke 12:15 EST
Our Play: Duke -18.5 betting at GTBets.eu using the 50% Sign Up Bonus up to $500.
The Blue Devils, seemingly always overhyped may surprisingly not be getting all the respect they deserve in this year's tournament. Eager to avenge an early tournament exit last year, Duke will show no mercy to Great Danes. They have an enormous advantage in every facet of the game against Albany and this game should be a 30-40 point rout.
No. 12 Mississippi at No. 5 Wisconsin 12:40 EST
Our Play: Wisconsin -6.5 – the odds are the same at all US sportsbooks at the time of writing.
Mississippi and Wisconsin face off in one of the most anticipated games on Friday. Many brackets have the Ole Miss Rebels knocking off the Badgers and advancing, but we'll tell you why we don't see it that way.
Though they finished fourth in the Big Ten overall, they just barely lost to Ohio State in the Championship Game on Sunday, 50-43. Also, they boast big regular season wins against Michigan and Indiana. This team gets up for massive games, and any NCAA Tournament game is a big game for the Badgers. They have played the 2nd toughest schedule in college basketball this year and play outstanding defense.
Mississippi's much easier regular season SEC schedule and strength of play may not tell us how good of a team they actually are, but we're willing they are not on Wisconsin's level. The team returned four starters from last season and these guys know how to play together. We like the Badgers to beat the Rebels in a Second Round victory.

No. 13 La Salle at No. 4 Kansas St. 3:10 EST
Our Pick: Kansas St. -6 our tops odds are listed at TopBet.eu
The La Salle Explorers won the play-in game on Wednesday to grab a #13 seed in the tournament. They defeated Boise State 80-71 in the opening round game. The Explorers have a talented pair of guards in Tyreek Duren and Ramon Galoway, who are the team's top two leading scorers. They form one of the most potent backcourts in the Atlantic 10.
However, Kansas St. has a much more impressive resume and is a vastly more talented team. The Wildcats lost to No. 1 Kansas in the Big 12 Championship a week ago and have been resting ever since.
Though the Atlantic 10 is much improved, the Big 12 is a far superior conference and Kansas St. is one of the better defensive teams in the nation. They have faced much tougher offensive lineups than the matchups La Salle will throw at them.
Kansas St. has won their first NCAA tournament game for the past three years and should be able to dominate against La Salle.
No. 15 Iona at No. 2 Ohio St. 7:15 EST
Our Play: Iona +14.5 best odds found at www.topbet.eu
The Iona Gaels do not have much of a history in the NCAA tournament and were responsible for one of the biggest meltdowns in tournament history last season, blowing a 27 point lead to BYU and falling 78-72. Only four players remain from that squad, and the players seemed to have put that loss behind them.
While Ohio St. is practically playing a home game as Dayton is just over an hour from Columbus, we like Iona's chance at a cover. They are one of the nation's best three point shooting teams and are solid from the free throw line, as well. Their fast guards and quick tempo could keep this one close and keep the pressure on the Buckeyes. This game may shape up similar to the Harvard's upset on New Mexico on Thursday.
No. 9 Villanova at No. 8 North Carolina 7:20 EST
Our Play: Villanova +4.5 bet it at Bovada.lv and grab a March Madness Bonus. See the banner below for more.

The ACC and the Big East face off in what should be one of the better games today. While Villanova has been inconsistent this season, they have beaten much better teams in a tough, physical Big Eat. With wins over Louisville, Syracuse and Georgetown, when the Wildcats get hot they can beat just about anybody.
North Carolina has also been impressive this season, but they play a more finesse style. They may not deal well with the Big East's constant pressure defense they will receive from Villanova. The Wildcats are loaded in the paint with bigs such as Mouphtau Yarou and Daniel Ochefu. The Tar Heels will take a punch to the mouth if they go inside.
North Carolina has been a heavily bet team by the public in this matchup, and we think they are wrong. The smart money is with the Villanova Wildcats.