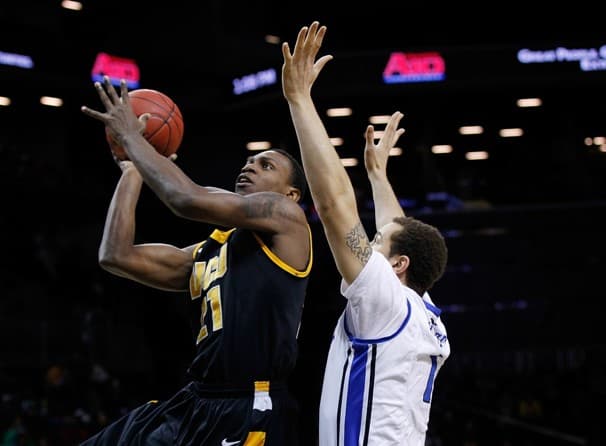 Closer than you think: We expect VCU and Treveon Graham (pictured) to run Michigan a lot closer than the sportsbooks are saying. VCU to beat the +3.5 spread.
As the field has been trimmed from 64 teams to 32, there were a bevy of upsets yesterday in the tournament. The most shocking was No. 2 Georgetown's loss to No. 15 Florida Gulf Coast, who shocked the Hoyas in their first NCAA Tournament appearance in school history. The FGCU Eagles handled the Hoyas without any doubt winning 78-68. Other upsets include No. 13 La Salle handling No. 4 Kansas St., 63-61 and No. 12 Ole Miss taking down the Wisconsin Badgers, 57-46.
No. 5 VCU at No. 4 Michigan 12:15 ET
Our Play: VCU +3.5 with the odds found at TopBet.eu.

This South Region game will be the only 5 vs. 4 seed in today's action. In VCU's tournament opener, they destroyed Akron 88-42 in a game that was never close. Troy Daniels had 23 and Juvonte Reddic dropped 21 as the Rams broke the margin of defeat record for a team seeded third or lower in NCAA Tournament history.
Michigan defeated South Dakota State, 71-56, in an opening round game in Auburn Hills, Michigan. The Wolverines got had three scorers in double figures and were an impressive 9 for 20 from three point range.
Both of these teams were impressive in their opening games, but VCU looks like the tougher of the two. Michigan seemed to be shooting a lot of wide open three pointers as South Dakota's defense seemed was not able to cover their perimeter shooters. VCU is tough, plays excellent defense and should make Michigan decidedly uncomfortable in their half court set.
Travis Burke was injured in Michigan's win over the Jack Rabbits, but should be ready to go for VCU. However, Burke may not be 100%, and he has been Michigan's go to guy all season.
+3.5 is a gift for Rams backers. This game should be extremely close, and we think Michigan will be down or chasing a cover all afternoon. We love VCU in this matchup.
No. 9 Wichita State at No. 1 Gonzaga 8:40 ET

Our Pick: Gonzaga -6.5 at Bovada.lv
Many experts have labeled Gonzaga a fraud after they barely escaped in their opening game against a pesky Southern University. The Bulldogs did eventually pull away in the final minute winning 64-58.
Wichita State handled Pitt easily in their opening round game in what had to be one of the worst played games so far in the tournament. The game was not close at the final buzzer with Wichita winning, 73-55.
While Gonzaga was not impressive in their opening win against Southern – we're not buying that this team will simply roll over and that their West Coast Conference dominance does not mean anything. This team has not lost a game in over two months, and that is impressive no matter what their strength of schedule truly was.
While the Shockers vanquished Pitt, the Panthers might have played their worst game in NCAA tournament history. Wichita was not much more efficient shooting just 38.8% from field goal range and 2 for 20 from 3.
Gonzaga is a much superior team and should easily be able to handle a Wichita State team that seems to be getting way too much credit for beating a mediocre – at best – opponent in the University of Pittsburgh.
No. 12 Oregon at No. 4 Saint Louis 7:10 ET
Our Play: Oregon +3.5. We found the best odds at TopBet.eu and GTBets.eu with both offering sign up bonuses.
Saint Louis was about as impressive in their Round of 64 win against New Mexico St. as any team in the tournament. Dwayne Evans led all scorers with 24 points as the Billikens steamrolled the Aggies 64-44. Saint Louis was dominant defensively in the matchup, making 7-foot-5 freshman Sim Bhullar a non factor and holding New Mexico St. to just 28% shooting.
Oregon knocked off No. 5 Oklahoma St. 68-55 on Thursday. The Ducks were better from the start and were eager to prove their No. 12 seed was a mistake by the selection committee. The PAC 10 tournament winners showed that and much more in their win against OKSU. Four players reach double figures in scoring for the Ducks as freshman point guard Dominic Artis' play seemed to inspire the team from the opening tip.
The Atlantic 10 is clearly a skilled conference with Saint Louis, VCU, Butler, Temple and La Salle all winning their opening games in the tournament. However, we think this is unfamiliar spot for the Billikens. Oregon has seemed to regain their dominant early season form and has a distinct size advantage against Saint Louis. They allowed 21 offensive rebounds in their win against NM St. – something that they will not be able to do against an Oregon team that smells blood.
It's hard not to love the Billikens and their incredible performance all season after the death of Rick Majerus last December, but we think their tournament may come to an end tonight.
No. 6 Butler at No. 3 Marquette 7:45 ET
Our Play: Butler +2 betting with Bovada.lv.
Butler continues their impressive tournament performances of recent years, proving that they can reload talent and still be a force in the NCAA tournament. They have now won 11 out of their last 13 games in the tournament with their only losses coming title games. Bucknell had no answer for Butler's big man, Andrew Smith who had a career high in points with 16 and notched 14 rebounds for a double-double.
Marquette barely escaped losing to No. 14 Davidson in the Round of 64. The Golden Eagles rallied from nine points down late and Vander Blue put up a layup with 5 seconds left to give Marquette the lead. Davidson threw away their final inbounds pass, and Marquette had completed the comeback. The edge on the boards kept Marquette in the game and finally gave them a chance to win. They out rebounded the Wildcats 38 to 23 and had 14 offensive boards to Davidson's 4.
We do not especially love Butler's roster, but this team has proven it can get it done in the NCAA tournament – no matter who they have out on the floor. Also, Marquette has not looked especially proficient as of late and frankly, looks sloppy out on the floor. Butler is one of the best free throw shooting teams in the country and has an outstanding record against out-of-conference.
Based on how each team has played so far – this game is a stark mismatch. We're in the opinion that the wrong team is favored. Take the points with Butler Bulldogs.