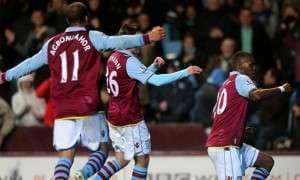 It is one thing to back Manchester United at long odds to beat UEFA Champions League title holder Bayern Munchen at Old Trafford but it is quite another to get stuck into the Red Devils at short odds against any decent team right now.
Manchester United copped a 0-3 hiding from Manchester City in the English Premier League on Tuesday and it would seem that, finally, the Old Trafford crowd's patience with David Moyes is wearing thin. Manchester United supporters were too proud to show Liverpool fans how much it hurt to lose 0-3 to their side but they did not have any qualms about making a scene in front of Manchester City followers. Old Trafford was a long way off capacity by the time that Yaya Toure's stoppage-time goal completed Manchester City's derby win.
How will Manchester United react when Aston Villa visits Old Trafford in the English Premier League on Saturday? Frankly, that is anyone's guess but Manchester United's players look so devoid of confidence that one cannot rule out the Red Devils falling victim to what, according to bookmakers, would be another major upset. Manchester United is trading at odds as low as 1.48 to beat Aston Villa. Anyone who backs Manchester United at those odds should retire from punting.
Aston Villa is available at odds of 8.50 with Ladbrokes and Stan James to become the seventh English Premier League side – and the eighth team across all competitions – to beat Manchester United at Old Trafford this season. And, even better, Aston Villa is trading at odds of 17.00 with the same two bookmakers to lead at half time and full time.
That has to be worth a speculative punt given the sad state of affairs at Manchester United. Manchester United striker Robin van Persie is out of action for a prolonged period of time with a sprained knee, the Red Devils midfield is an awful mess in which Juan Mata is not functioning and Tom Cleverley is copping flak from all directions, while the less said about United's defensive structure the better.
Aston Villa is coming off an inexplicable 1-4 English Premier League home loss to Stoke but the Villans had defeated Chelsea at Villa Park the week before that and, besides, Paul Lambert's side have played most of their best football away from their Birmingham base. Some teams are set up to perform better on the road and Aston Villa, which has collected 17 points from 16 home matches and 17 points from 14 away games, are the English top-flight's prime example.
If one is going to have a crack at Aston Villa then there is a case for backing the Villans to lead Manchester United at half time and full time. One would think that Aston Villa will probably have to score the opening goal to win at Old Trafford and the Villans have superior half-time numbers on the road than those of Manchester United at home. At half time in Aston Villa's 14 English Premier League matches, the Villans have been leading five times, drawing seven times and losing twice. Manchester United has played 15 top-flight home games and it has been leading, drawing and losing five times apiece, scoring a pathetic seven first-half goals.
Manchester United supporters have been remarkably patient in view of their side's hugely disappointing first term under Moyes and for that they deserve credit.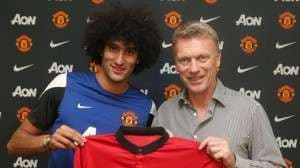 But one senses that there is a groundswell of opinion among the Old Trafford faithful that Moyes is not the man for the job and that, unless they speak up now, the likelihood is that Manchester United's board will stick with the former Everton boss and hand him millions of pounds to spend in preparation for next season. Those fans have seen too many poor Marouane Fellaini performances – to be fair to the Belgian midfielder it is not his fault that he came with a huge price tag – to trust Moyes to spend their team's money wisely in the summer.
Aston Villa has the personnel to trouble Manchester United's creaky defence – almost all English Premier League sides do – and an early Villans goal would probably result in the Old Trafford atmosphere becoming toxic towards the Red Devils