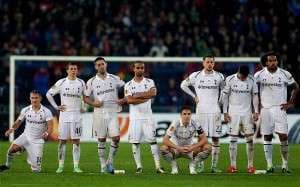 It is not often that one could say that an English Premier League team without a win in seven matches, losing six of those games, represents decent value to take three points from its next fixture but that is the case with Sunderland as it prepares to play Tottenham at White Hart Lane.
Ladbrokes is offering odds of 7.50 about Sunderland beating Tottenham and, while the Magic Sign is one bookmaker that usually keeps the cash when it goes out on a limb, one cannot help thinking that the Black Cats are overpriced given the almighty mess in which Tottenham finds itself.
This was supposed to be the season that Tottenham made the leap from English Premier League middleweight to heavyweight but Spurs have wasted the money that they received from Real Madrid for Gareth Bale and ended up with a novice manager at the helm following the sacking of Andre Villas-Boas. And, boy, Tim Sherwood is making a real mess of his first job.
According to media reports, Tottenham players and staff have held not one but two dressing-room inquests in the space of the last three weeks, the latest after Spurs lost 0-4 to Liverpool at Anfield. The word on the street is that the Tottenham squad is frustrated with Sherwood's frequent changes to the Spurs starting line-up and, also, the manager's lack of alternative in-match tactical plans.
Sherwood has a contract until the end of next term but Louis van Gaal has met Tottenham chairman Daniel Levy and made it clear that he is interested in coaching Spurs once he has finished his commitments with the Netherlands at the 2014 FIFA World Cup Brazil. And Van Gaal is not the only famous name who has been linked to a move to White Hart Lane.
It seems ludicrous to say such a thing about a side placed sixth in the English Premier League but Tottenham is a club in crisis. Tottenham looks likely to miss out on European football altogether having been in contention for one of England's four UEFA Champions League spots before the turn of the year. With six English Premier League games to go, Tottenham is on course to finish seventh provided that Manchester United gets its act together from now onwards.
Sunderland would kill to be heading for seventh place in the English Premier League because the Black Cats are 19th, four points adrift of safety, albeit having played fewer matches than every team except Manchester City. Not much has gone right for Sunderland since it lost 1-3 to Manchester City in the English Capital One Cup final but the Black Cats have been playing better than their raw results suggest.
Rags To Riches is all about highlighting value. Given the problems that Tottenham is experiencing, both on and off the field, and the fact that its recent form is not a great deal better than that of Sunderland, Spurs appears grossly under the odds at 1.53 with several bookmakers, including Betfred, Paddy Power and Totesport. Tottenham has won only one of its last six games across all competitions and that was an unconvincing 3-2 home victory over a Southampton side that led 2-0 after 28 minutes but capitulated – again – versus a team above it on the English Premier League ladder.
Sunderland's players are giving their all for their manager, Gus Poyet. The former Chelsea midfielder has done a good job in cleaning up the mess that Paolo Di Canio left behind and, if Sunderland does drop into the English Championship, it will not reflect badly on Poyet. Sunderland was dead and buried before he breezed into the Stadium of Light. That Sunderland has a chance of staying in the English Premier League means that Poyet has done well. But are Tottenham's players giving their all for Sherwood? One thinks not and that is why Spurs are poisonous at odds of 1.53 against a Sunderland team that will fight tooth and nail on Monday.