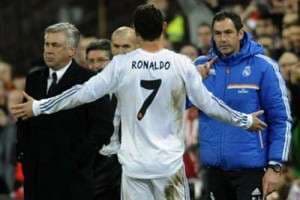 The Spanish Primera Division title race has the potential to go right down to the wire because three points separates the top three teams and two of them, Barcelona and Atletico Madrid, are programmed to meet in the final round.
Bookmakers are in unanimous agreement that Barcelona is the Spanish Primera Division favourite and that, if any side is going to prevent Barca retaining the championship, Real Madrid is the most likely to stop it going back to back.
There are 16 rounds of the Spanish Primera Division season to go so one thought that, following Barcelona's shock 2-3 home loss to Valencia that has seen Barca fall three points behind pace-setter Atletico Madrid, it was an opportune time to review the fixture list and see if bookmakers are correct to have Gerardo Martino's team at the top of their markets.
Such has been the dominance of Atletico Madrid, Barcelona and Real Madrid that it does not make a great deal of sense to pore over every remaining game of the Spanish Primera Division title contenders. After all, Atletico has dropped points in only four of its 22 matches, while Barca and Real have identical records of 17 wins, three draws and two losses. So one is going to focus on each side's games against top-six teams and local rivals exclusively.
Atletico Madrid's 16 Spanish Primera Division fixtures to go include home matches versus Real Madrid and Villarreal and away games against Barcelona and Bilbao. On the face of it, Atletico has a good run home and one has to remember that the Mattressmen's only defeat in any competition this term occurred when their goalkeeper, Thibaut Courtois, scored Espanyol's winning goal in the middle of October. The dark cloud on the horizon for Atletico, though, is that it must play Barcelona at the Camp Nou in the final round. The rules of the Spanish top flight mean that, in the event of a tie on points, head-to-head points are the first breaker. So, with Atletico and Barcelona having drawn 0-0 in Madrid, the Mattressmen would have to be at least four points clear of Barca going into the final round to be safe from harm. Also worth noting is that Atletico has seven home matches and nine away games remaining, which is not a great split.
Still to come for Barcelona are eight Spanish Primera Division home matches and eight away games, including home dates versus Atletico Madrid and Bilbao plus away trips to Espanyol, Real Madrid, Sociedad and Villarreal. At six, Barcelona has more potential banana skins remaining than either Atletico or Real. The positives for Barcelona are that it drew 0-0 against Atletico in Madrid and it beat Real 2-1 at the Camp Nou so its head-to-head statistics are good.
Real Madrid has nine Spanish Primera Division home matches and seven away games left, including home assignments versus Barcelona and Rayo Vallecano and journeys to Atletico Madrid and Sociedad. Real's fixture list between now and the end of the season is, arguably, the softest of the three teams with championship aspirations. The biggest knock against Real is its head-to-head records versus Atletico and Barcelona, particularly the former as the Meringues would need to win at the Vicente Calderon to get at least square with the mighty Mattressmen. However, one should remember that the head-to-heads would only count in the event of a points tie.
With Barcelona trading at odds of 2.25 with BetVictor, Real Madrid available at odds of 2.62 with Paddy Power and Atletico Madrid up for grabs at odds of 4.25 with 888sport, one thing stands out in terms of value and that is that Barca seems to be a false favourite and it faces the toughest test in the 23rd round of matches as well. For the record, Barcelona is away to Sevilla, while Atletico travels to Almeria and Real hosts Villarreal.
Currently the Spanish Primera Division title betting value lies in supporting Real Madrid at odds of 2.62. Real has a nice little run of fixtures in the next few rounds and, if it can either win or draw against Atletico Madrid at the Vicente Calderon, it is likely to be in pole position. Do not stress that Cristiano Ronaldo is facing a three-game ban. Real should be able to win their next three league matches without its Portugal international superstar.