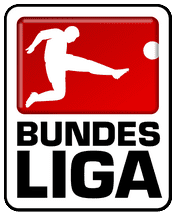 The German Bundesliga resumes after its mid-winter break and, if champion-elect Bayern Munchen is going to lose a league game, surely there is a better chance that it will occur in Round 18 than bookmakers would have one believe.
Barring a miracle, Bayern Munchen is going to go back to back and win its 24th German Bundesliga title. Bayern has collected 44 points out of a possible 48 and second-placed Leverkusen is seven points off the pace and, judging by its UEFA Champions League performances, not in the same class as the prohibitively priced favourite. That is beyond dispute.
But Bayern Munchen's German Bundesliga campaign restarts at Monchengladbach and, as the top flight's third ranked team at the halfway point of the season, surely the latter is worthy of more respect from the bookmaking fraternity.
Monchengladbach is trading at odds of 9.00 with Sportingbet to beat Bayern Munchen. The purpose of this weekly article is to highlight sports betting outsiders that have a live chance of upsetting the applecart and one believes that Monchengladbach has a real opportunity of doing that.
Bayern Munchen has played three friendly matches since it returned from the FIFA Club World Cup in Morocco having not been tested at all following the unexpected pre-final exit of Atletico Mineiro. And while Bayern manager Pep Guardiola did not lose his cool after his side slumped to a 0-3 loss against Salzburg last weekend, blaming its defeat on the experimental line-up that he deployed, not even he could spin the result as being anything less than disappointing.
Both of the German Bundesliga games that Bayern Munchen have drawn this term have been away from home, with it accruing one point from its matches at Leverkusen and Freiburg. So Bayern is not invincible on its travels. Monchengladbach, whose home record is second only to that of its weekend opponent, ought to fancy its chance of causing what the betting community would view as a boilover. Leverkusen's home record is the third best in the German Bundesliga, while Freiburg is in the relegation play-off position largely because it has collected only six home points.
Monchengladbach's German Bundesliga home record reads eight wins, one draw and no losses. Monchengladbach was victorious in each of its first eight top-flight home games this season as it swept aside, in chronological order, Hannover (3-0), Bremen (4-1), Braunschweig (4-1), Dortmund (2-0), Frankfurt (4-1), Nurnberg (3-1), Freiburg (1-0) and Schalke (2-1) before drawing 2-2 with Wolfsburg. Monchengladbach led Wolfsburg 2-1 with five minutes to go but Bas Dost scored for the Volkswagen-backed team as time was running out.
Admittedly, Monchengladbach copped a pre-season hiding from Bayern Munchen but one can turn a blind to friendly results, particularly when the odds on offer do not correspond with other data. For example, Monchengladbach put the frighteners on Bayern in the German Bundesliga last term, racing to 2-0 and 3-1 leads inside what one can only describe as a crazy first 10 minutes before going down by the odd goal in seven. Franck Ribery scored Bayern goals either side of half time to help the visitor snatch victory from the jaws of defeat.
Bayern Munchen is the best side in Germany and, in the eyes of many football fans, it is the best side in Europe. But Bayern is too short at odds of 1.40 with the UK's BetVictor bookies and William Hill to become the first team to win a German Bundesliga match at Monchengladbach. If value betting is one's thing – and it should be because backing overpriced options is the only way to turn a profit in the long run – Monchengladbach should be on one's list for this weekend.