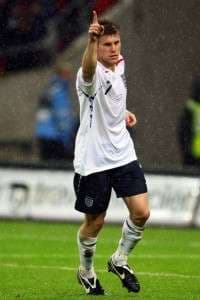 The 2014 FIFA World Cup Brazil squads are starting to appear and, as ever, England's selection is one that generates very heated debate around the globe, not least because most of the players are English Premier League household names.
England coach Roy Hodgson has named the 23 players who will represent the Three Lions in the 2014 FIFA World Cup Brazil provided that none of them fall victim to injury between now and the deadline for the submission of rosters. The biggest initial story was the inclusion of Everton midfielder Ross Barkley but, moving forward, all the talk will be about which 11 players will start for England against Italy.
Several bookmakers are quoting odds on England's line-up for its 2014 FIFA World Cup Brazil Group D opening game versus Italy in Manaus. And it is those markets that have thrown up what one thinks is an good bet in the shape of James Milner, the Manchester City midfielder whose dull personality has spawned one of Twitter's most popular parody accounts.
Milner is not a headline writer's dream but he is a definite favourite of football professionals, both those on the pitch and in the dugout. Milner made 31 appearances for Manchester City in its English Premier League-winning campaign, playing in 44 of his side's 57 matches across all competitions. Only seven Manchester City players featured more frequently than Milner, who took part in eight of England's 10 qualifying games for the 2014 FIFA World Cup Brazil, starting five.
Sky Bet and Winner are offering odds of 2.38 that Milner is one of England's starting 11 players against Italy, whereas Coral and Ladbrokes each quote Milner at odds on. One agrees with two of England's biggest bookmakers that Hodgson is more likely to include Milner than he is to exclude him.
One believes that there are several reasons as to why Milner is a good bet to start for England versus Italy in one of the marquee matches of the 2014 FIFA World Cup Brazil.
First, England is in a 2014 FIFA World Cup Brazil group that should boil down to a three-way fight between Italy, Uruguay and the Three Lions. With the strong likelihood that Uruguay will beat Costa Rica just before England and Italy kick off in Manaus, it would be a gross understatement to say that neither the Three Lions nor the Azzurri will want to lose their first game. For England in particular – because it faces Uruguay next – it would place it under considerable pressure and risk rendering its match against Costa Rica meaningless. So surely Hodgson will pick an England team that play extremely conservatively versus Italy. Milner represents a conservative midfield option for England.
Second, there is the controversial host city for the 2014 FIFA World Cup Brazil Group D game between England and Italy. Manaus is the capital of the state of Amazonas and, according to meteorological records, its average daytime temperature in June is around 31 degrees Celsius, while humidity typically measures about the 80 per cent mark. Surely both England and Italy are going to place great emphasis on conditioning for this match and, therefore, Milner stands an excellent chance of getting a run.
And third, experience counts for a lot at FIFA World Cups and Milner has considerably more than most of England's other midfielders. Hodgson is not known for making bold calls so one thinks that he will want more than just one highly capped midfielder – Steven Gerrard is a certainty – to start England's 2014 FIFA World Cup Brazil Group D match against Italy. If one accepts that Frank Lampard is a long shot then Milner is second only to Gerrard in the caps stakes and he is miles ahead of Jack Wilshere on 15.
Backing Milner to start for England versus Italy may be as boring as his public utterances but, as far as 2014 FIFA World Cup Brazil exotic bets go, it is fairly exciting.