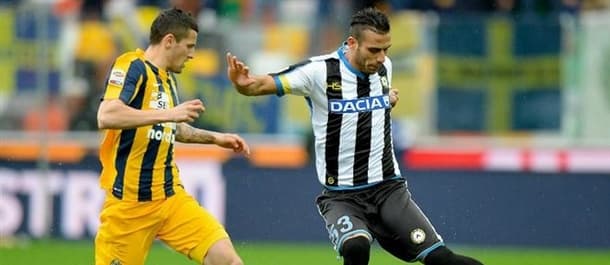 Chievo represents a value bet to end Udinese's Italian Serie A winning streak when the Flying Donkeys and the Little Zebras kick off the first round of the new year.
Bookmakers have set Udinese as the favourite for Friday's Italian Serie A match and one can understand why they think that they can lay the Little Zebras as the market leaders. Udinese has won each of its last five Italian Serie A games to ascend to the eighth rung on the ladder, whereas Chievo has collected just one point from its most recent five divisional matches and it lost 0-1 at Benevento on its latest outing, a result that sent the Flying Donkeys anything but flying up the chart. For the record, Chievo occupies 13th place on the Italian Serie A ladder now.
What interests one about Chievo, though, is that it defeated Udinese 2-1 on the road in the first round of Italian Serie A action and the Flying Donkeys have fared better than the Little Donkeys against most of the league's top teams. For example, according to one's Italian Serie A collateral form analysis, Chievo enjoys a 5-0-2 lead over Udinese when one only collates information from games in which either the Flying Donkeys or the Little Zebras faced a top-seven side. Overall, Chievo trails Udinese 8-1-9 according to one's Italian Serie A collateral form data but there are clear grounds for thinking that the Flying Donkeys are well over their true odds at 3.12 with BetVictor to beat the Little Donkeys yet again.
Benevento broke its Italian Serie A duck at the 19th time of asking but one thinks that the cellar dweller is heading for another divisional defeat this weekend. Benevento will host Sampdoria on Saturday and one likes Samp at odds of 2.06 with 888Sport.
Sampdoria came from behind to get the better of Benevento 2-1 at home in Italian Serie A's first round and, according to one's collateral form analysis, sixth-ranked Samp holds a 15-1-2 advantage over their relegation-threatened opponents. Furthermore, Sampdoria has outperformed Benevento versus all of the top five teams – Napoli, Juventus, Internazionale, Roma and Lazio – as well as bossing the head-to-head data. Irrespective of venue, Benevento is 0-0-10 against sides ranked in the Italian Serie A top 10, whereas Sampdoria is 4-2-0 versus teams ranked in the division's bottom six.
Torino's growing injury list prevented one from including it on one's Italian Serie A short list and one should exercise caution in backing Lazio to triumph over SPAL because, while the bulk of the collateral form supports the hot favourite, the White and Sky Blues have not done much better than their Saturday host against sides on the top half of the ladder.
There are very few Italian Serie A collateral form knocks on Juventus ahead of its match at Cagliari on Saturday so the Old Lady have one's support versus the Red and Blues at odds of 1.3 with BetVictor. The progressive Italian Serie A collateral form figures of Juventus over Cagliari read 5-0-0, 7-1-0 and 13-1-1, with the final number being 15-3-1. The reverse Italian Serie A fixture resulted in a 3-0 home victory for Juventus.
Below are the Italian Serie A collateral form figures for each of the 10 games scheduled for the upcoming round.
Chievo 8-1-9
Fiorentina 6-2-11
Benevento 2-1-15
Genoa 8-5-6
Milan 12-3-4
Napoli 17-0-2
SPAL 3-2-13
Torino 9-4-6
Roma 9-6-4
Cagliari 1-3-15
Chievo to beat Udinese
Friday 5th January, 17:00 GMT
Odds: 3.12
Sampdoria to beat Benevento
Saturday 6th January, 14:00 GMT
Odds: 2.06
Juventus to beat Cagliari
Sunday 6th January, 19:45 GMT
Odds: 1.3
Chievo
Juventus
Sampdoria
Serie A