The modern era of sports betting offers a depth of information and variety of betting options far beyond what was available in past decades, but a betting practice borne from unregulated Asian betting markets might soon prove to be a threat to games and events around the globe, in particular small-handle events and matches of special interest.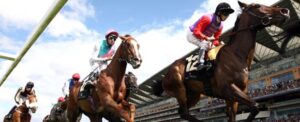 Curious about the backstory? It's a relatively new scheme called "price stomping" or "price steaming," and it involves the underreported tale about how an everyday race at a medium-sized Ohio horse track soon led investigators to a method of odds manipulation, done to skew odds offered halfway around the globe.
Nearly three years ago, in May of 2012, a six-furlong maiden race at Ohio's ThistleDown Racino saw a strange happening, in regards to pre-race odds. It was a small-field race, seven horses, with a heavy early favorite in Eye Look The Part. Early betting showed Eye Look The Part to be a heavy favorite, and he was listed at 1:5 in the earliest lines.
Then weird betting action occurred: A bettor or bettors unknown placed $7,000 each on the other six horses, each of whom had various long odds to win when compared against the heavy favorite. At a larger facility in a bigger race, the $7,000 win bets would have moved the lines only a little bit, but at the small Cleveland-area racino, it flipped the betting odds: Eye Look The Part moved from 1:5 to more than 5:1.
The thing was, the odds had been manipulated — Eye Look The Part still won the race with ease, by 16-1/2 lengths, and returned $12.80 on a $2 bet. The strange betting action, however, led to an investigation by Ohio gaming regulators, and that led directly to underground Asian betting sites.
It turned out that the race, despite the facility's modest size, was included in the offerings of several major — but unofficial — Asian betting sites, such as CITIBet, AA-Star, SBOBet and MAXBET (formerly IPCBET). And the action on those sites was significant enough to make it worthwhile for some major bettors to reach halfway around the globe, to Cleveland, and invest $42,000 in losing bets on longshots, merely to flip the odds. Elsewhere, on the unofficial Asian sites, major action was placed on Eye Look The Part to win, and when the true heavy favorite lived up to the early pre-race expectations, someone, somewhere, made a killing.
Exactly who was responsible was never officially determined. The Ohio investigators quickly determined that the tote manipulation wasn't done by anyone in connection with the ThistleDown facility, which is a joint venture of Caesars and Ohio-based Rock Gaming. Nonetheless, all the betting done in the six-furlong maiden offering had been heavily affected by the false betting; those bettors who had jumped on Eye Look The Part as his odds grew inexplicably longer also garnered an unexpected payday.
Investigators also determined that the practice, known as price steaming or price stomping, was increasing in occurrence. It was the Ohio racino's first exposure to it, though it was an eye-opener. The May 2012 was particularly susceptible to manipulation because of the small field size and early overwhelming favorite, but the same circumstances could occur anywhere, in any sort of race.
Other sporting events, given a small enough total handle and global betting availability via underground markets, are also susceptible to such manipulation. The scheme, of course, isn't fullproof: The skewed odds are available to all bettors, and the true heavy favorite -could- lose. However, the enticing true odds appear to make manipulation — aimed not at the hosting facility but at underground lines offered overseas — well worth the risk.
It'll be interesting to see exactly how the threat of remote manipulation affects the future availability of such events. That such races as these ThistleDowns offerings were available at all is, of course, both a blessing and a curse of the modern information era. Price steaming isn't a totally new concept, after all — just a new application of an old con game, played electronically. Special circumstances involving a small betting handle and a heavy favorite may now have to be viewed as a recipe for possible manipulation, wherever these conditions occur.
Eye Look The Part
Horse Racing
odds
Ohio
price steaming
price stomping
ThistleDown