A United States District Judge has affirmed a lower court recommendation that evidence seized from a Caesars Palace guest villa occupied by Asian gambling whale Paul Phua was gathered illegally and cannot be used in Phua's trial, which was scheduled to begin shortly.
Phua (natural name Wei Seng Phua) and seven others were initially charged last July with operating a major "boiler room" online sports betting operation from three luxurious guest villas at Caesars Palace in Las Vegas, one of the gambling mecca's most famous and classical casino-resorts. The group was collectively charged with processing as much as US $300 million in bets, mostly on last year's FIFA World Cup, through a small handful of Asian-based "underground" sports betting sites.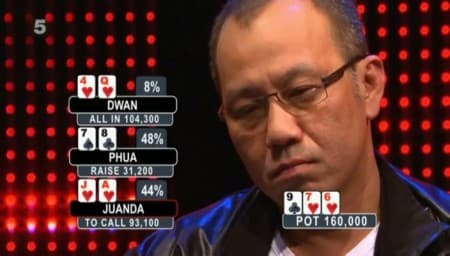 Judge Andrew P. Gordon announced his decision on Friday, ending a heated battle between Phua's high-priced defense attorneys and prosecutors from the US Department of Justice, working from evidence assembled from several raids conducted by the US's FBI.
In this case, though, the FBI was ruled to have violated the Fourth Amendment of the US Constitution, which gives rights and protections "within one's own residence" to all people within the US, whether or not they are American citizens. The FBI launched a ruse where they disconnected all internet access to Phua's villa, then falsely posed as repair technicians to gain access to the villa, where they secretly filmed everything in sight.
Judge Gordon ruled that by essentially forcing Phua to call for technical help, since he was a guest at Caesars, they violated his constitutional privacy, the protections of which extend to hotel rooms and similar lodging. That meant that all the evidence obtained from two separate searches last July will be tossed from the case.
Wrote Gordon, in part:
This case tests the boundaries of how far the government can go when creating a subterfuge to access a suspect's premises. Here, the government disrupted the internet service to the defendant's hotel room in order to generate a repair call. Government agents then posed as repairmen to gain access to the defendant's room and conduct a surreptitious search for evidence of an illegal sports betting operation. By creating the need for a third party to enter defendant's premises and then posing as repairmen to gain entry, the government violated the defendant's Fourth Amendment rights.
It's unclear whether the ruling completely destroys the US government's case against Phua, the last of eight original defendants in the case and the only one to battle his way to the brink of a formal jury trial. Separately, Judge Gordon ruled that evidence linking Phua to the sports betting operation that was obtained from two other villas targeted in the collective raids may yet be used against Phua, if such linkage exists. Phua's defense attorneys were also encouraged to file a new motion in connection with that possibility.
Phua, an international "whale" of the gambling scene whose action was coveted by casinos around the globe, was alleged to have been the ringleader of the boiler-room operation, which appeared to have been hastily relocated to Las Vegas after a similar operation was shuttered by authorities in Macau last May.
Unfortunately for US prosecutors, the case against Phua was perhaps the most tenuous of all. Despite misleading inclusions in the various search warrants issued that targeted Phua and the other defendants, the villa occupied by Phua and his son, Darren, was not decked out with large numbers of computers as found in the other two villas.
That a major boiler-room betting operation was operating from at least some of the guest villas is a given. Six of the case's other seven defendants reached plea deals, and paid hefty fines in exchange for being able to leave the US and return to Malaysia, Hong Kong or mainland China. Was Phua involved? Possibly. But it appears unlikely that the US acted lawfully in attempting to prove its case.
evidence
FBI
FIFA
Paul Phua
sports betting
United States
world cup