More developments emerged this week from the bizarre saga of celebrity sports handicapper and tout Adam Meyer, whose self-promoting sports-pick businesses have been featured on both sides of the Atlantic. In the latest happenings, US District Judge William E. Duffin, presiding over Meyer's case in an Eastern District of Wisconsin (U.S., Milwaukee) court, revoked Meyer's bond and ordered him to await his pending extortion trial in jail, after repeatedly violating the conditions of his parole.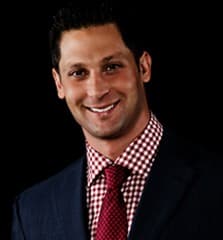 Meyer, as we've recapped in the past, is the high-profile tout who's been featured in magazines, cable-TV and radio programs, and online sites, both in the US and abroad. He was arrested last year on charges of extorting $25 million over the span of several years from one of his wealthiest clients, Gary Sadoff, a Wisconsin multimillionaire who owns the state's largest liquor distributorship.
Meyer allegedly resorted to threats of violence as a means to extract millions from Sadoff in order to prop up his own celeb-driven businesses, fuel his lavish lifestyle, and help pay for an increasing drug habit, according to various reports. It's that drug habit that led in part to Meyer having his bail revoked, according to a recent Milwaukee Journal-Sentinel update. Meyer had failed several mandatory drug tests as part of his court-ordered admission to a drug-rehab program as part of his parole, and then was finally booted from the rehab program after being caught with a smuggled cell phone with which he was communicating with people outside the rehab facility.
"He didn't follow the rules, he didn't do what I told him to do," Judge Duffin said, according to the latest J-S update. "He blew it, he got kicked out."
Meyer's tale grows ever more bizarre, court hearing after court hearing. Documents related to his indictment detail how he supposedly claimed to be under threats of violence himself, then claimed to imagined third parties — invented by Meyer himself, for the purpose — that his wealthy client Sadoff was instead his business partner, and was responsible for Meyer's growing debts.
The alleged scheme began at about the approximate time that one of Meyer's very real business associates, disgraced University of Miami booster Nevin Shapiro, was convicted on various Ponzi scheme charges that purportedly included investments from Meyer. The full extent of Meyer's possible relationship with Shapiro remains unclear, though Shapiro himself was accused of funneling over $2 million to as money as 100 U of Miami athletes last decade.
Meyer's own troubles continue to mount as well. Meyer's bizarre defense claims for the years-long extortion against Sadoff includes both temporary insanity and that he was working on behalf of the US government in connection with investigations into various illicit sportsbetting operations; in other words, Meyer would have the world believe that the [alleged] extortion occurred be cause he needed to keep up appearances [his businesses and lifestyle] to continue to help out his friends with the ol' US gubmint.
Right.
Meyer has also claimed, in various affidavits, that he's been being extorted himself by others, presumably underground gambling operators, for nearly a decade, and that drugs were also planted by his car by Florida authorities in an unrelated 2014 arrest.
Meyer has even claimed, in one of several court filings still under seal, that he has served as a special consultant to several major American professional sports regarding sports betting activities. The Milwaukee Journal-Sentinel has filed for release of those documents under US Freedom of Information laws, but has yet to succeed in that quest.
The bizarre mix of claims and actions has led Meyer's current attorney, Joel Hirschhorn, to petition the court to stop representing Meyer. Judge Duffin has yet to rule on that petition, but if granted, a court-appointed tourney will likely be appointed in his stead. No trial date cane be set until active defense counsel is reestablished for the trial.
It's all part of a wild crash from the heights for Meyer, whose once-popular AdamWins.com and other tout sites have collapsed in the wake of the charges and impending trial.
Adam Meyer
bond
extortion
Florida
sports betting
sports tout